FREE Blogger Poster
Blogger allows you to create & send blog posts via email, this feature is called Mail-to-Blogger. Once you have activated the feature, every email you send to this email address will be posted as blog post. This is a great feature as you can use it to to create blog posts without need to write any post manually.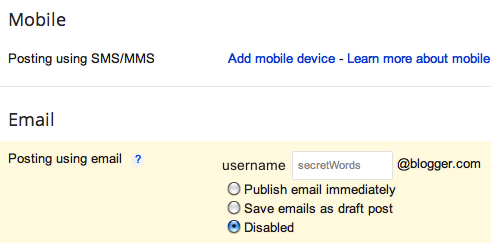 You can activate this feature by visiting your Blogger dashboard, and then find Setting >> Mobile & Email menu. Create Mail-to-Blogger address for your blog, the format of this address is username.secretword@blogger.com (NOT @gmail.com). And then set it to "Publish email immediately".
We can even use post-by-email feature to create auto post blogger: create blog posts in just a few clicks -without writing a word at all! And if it something you need, then FREE Blogger Poster is a tool you need. Just set your keyword, the tool will automatically send content to your blog! Add feed@fullcontentrss.com to your gmail contact since all contents will be sent from this email address. In addition, you can even activate rewriting feature to rewrite the content before it is sent to your blog. This feature will rewrite the content on the fly and make them unique and better for SEO.
Subscribe the key now for 4$ per month only! Or Save 50% ($2 per month) if you subscribe for a year. You can stop the subscription anytime. Once we received the payment,
we will send the access key to your PayPal email within few hours.
Be sure to add fullcontentrss[at]gmail.com to your email contact.
AutoPilot Blogger script available for purchasing for $29 only. Buying the script will give you many benefits: using it for yourself, make money by offering the same service as we do to your users, customize the script, etc.

Buy the script now and we will send the script to your PayPal email in few hours. Be sure to add our email FullContentRSS@gmail.com to your contact.